EXCEPTIONAL MODERN LUXURY BATHROOM MODELS AND PRODUCTS! IT WILL CHALLENGE YOUR DREAMS
History:16.05.2020-06:49 Umit Altinay
71 THE MOST INTERESTING LUXURY BATHROOM MODELS - ONLY 1 BATHROOM RESTORED IN 21 DIFFERENT WAYS
The bathroom is now among the most enjoyable places in a house and has become the favorite place where people relax and listen. Bathrooms, which have such an important place in our lives, have been designed and furnished in recent years with very different models. There are some bathrooms that are as luxurious as the living room of the house and are beautifully furnished. In this article, we will try to introduce you how to furnish the bathroom, the best luxuriously furnished bathroom models and the products you can use in the bathroom.
We have researched the bathroom models we have compiled specially for you , who want to change their home, buy a new home, for newlyweds, and you will love these most popular bathroom models and these models that people like. You will be dizzy with different models of bathtubs, shower cabins, sinks, closets and closets. All kinds of latest textures, patterns, prints, finishes and styles are here, get inspiration for your bathroom model!
When laying the bathroom, criteria such as which style your home is furnished in and which style prevails are important. Accordingly, you can reveal the difference literally by choosing one of the bathroom models . Wall details will not go unnoticed in bathroom models dominated by modern and country styles. Now, we can reveal the colors with the end of the use of tiles on the walls. You can decorate your bathroom, which you can paint in any color, with different decoration items. Why shouldn't the bathrooms you use as soon as you enter your house refresh your heart?
1- Bathroom with piti checkered floor tiles
The gold fixture is back and better than ever! Brass and gold tones sinks and toilets may herald a new change in your bathroom this year. Erase memories of Grandpa's bathroom brass faucet, as these beautiful new warm-tone gold fixtures will add some depth, dimension and luxury feel right to a new space. Look around and you will see that there are many more shades of gold used than you thought. The reason for the return - it is perceived as going back to many different style settings. You can view gold and brass plated bathroom models and products here , get an idea. The models you are looking for the last train may be waiting for you.
2- Small bathroom placement style
Tired of excessive clutter and limited closet space in bathrooms? So are we, but the trend in 2020-2021 Bathrooms, storage areas are minimized, less cupboards and more large space are sought. It is believed that this lifestyle will help reduce stress and keep things organized. Hidden cabinets, modern wall shelves and vanity places under the cabinet will make your bathroom look less cluttered and make the whole bathroom feel more open and organized.
Are you interested in cabinets and shelves with modern unusual lines? If it is of your interest , you can review these products here and get ideas.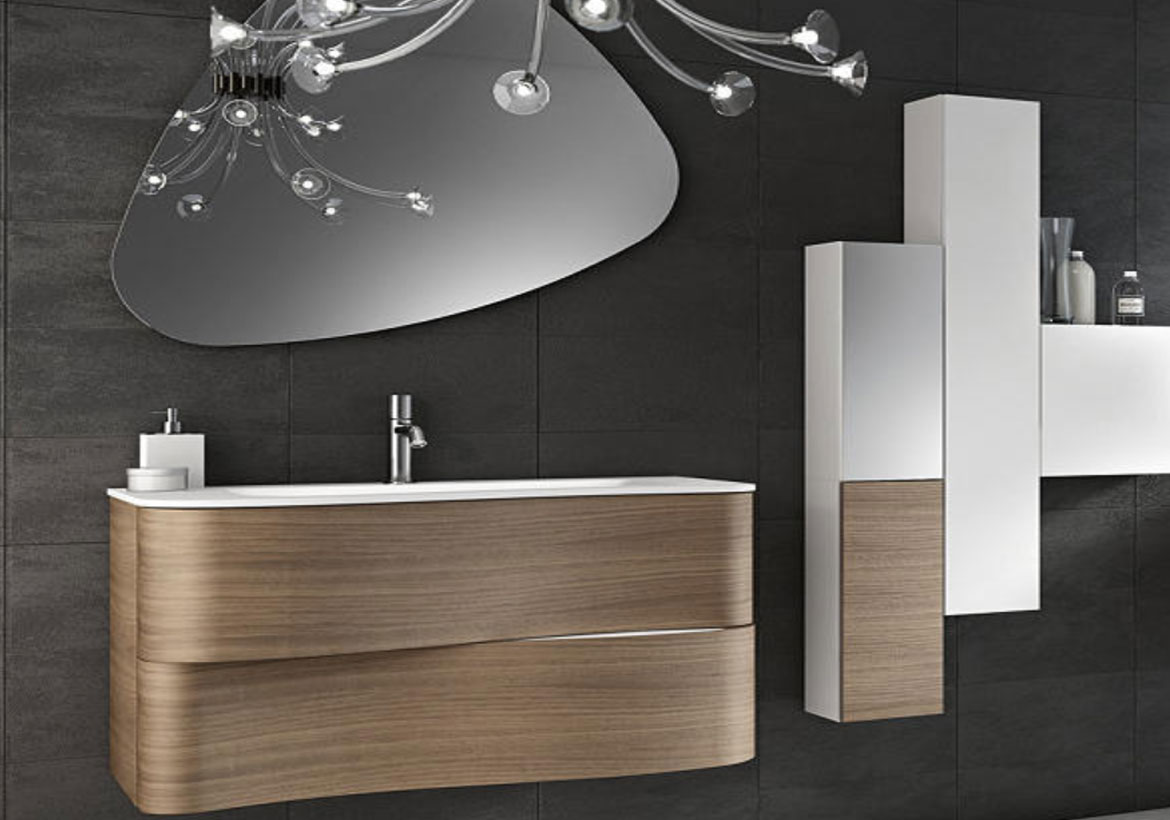 3- Black's nobility
We expect to see an increase in black bathroom models . This trend is most followed by light fixtures, mirrors, and other fixtures - especially popular with matte finishes! Some homeowners may hesitate to install these darker shades in their homes, so we suggest a gray, classic white or a neutral color, but for those who want to get away from this classic style of flooring, black is the best choice for boldness and of course. You can review black bathroom products here and get an idea.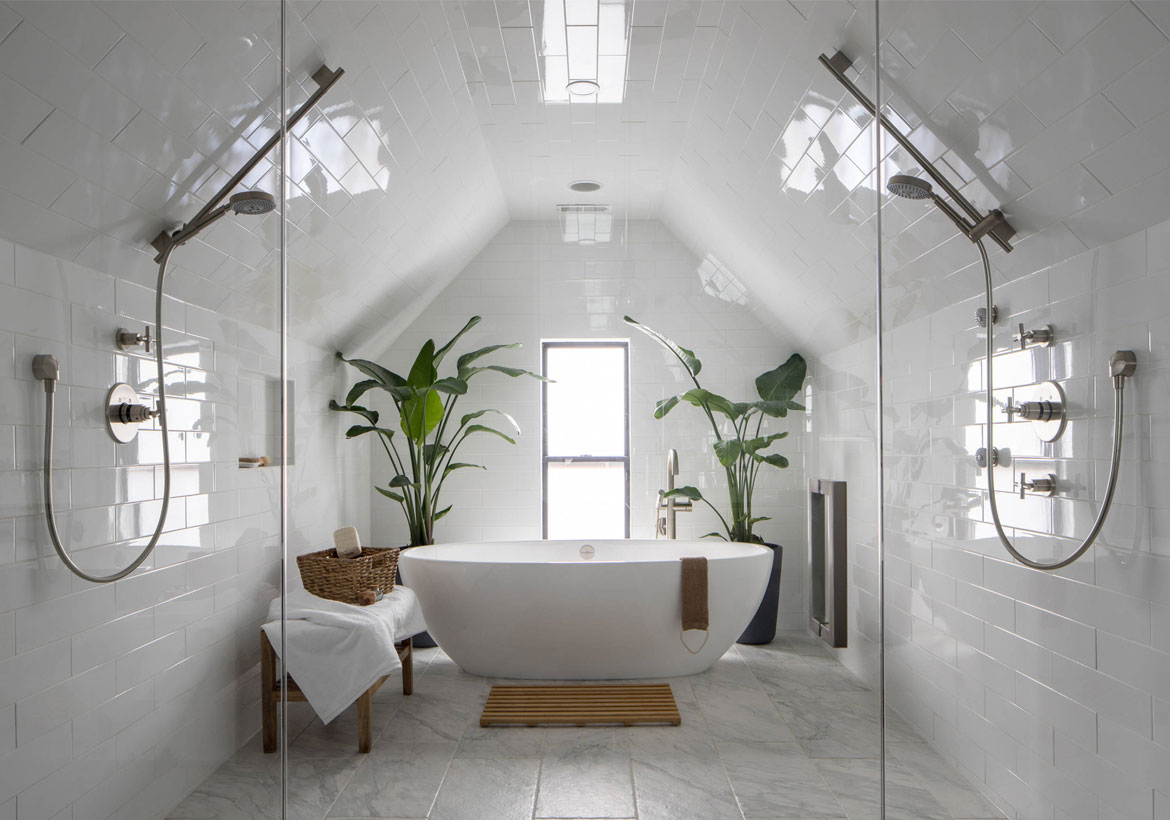 FEEL FREE WITH LARGE BATHTUBS AND OPEN SHOWERS
When it comes to bathroom renovation, spaciousness, spaciousness and more space possibilities come to mind. In fact, the goal of having more space is often the number one reason homeowners choose to remodel, to modernize. Including the bathroom! With compact storage options, you give yourself more space to expand in the bath or shower.
Large Tubs
The bigger the bathtub, the more space and relaxation you get. Homeowners deserve a place to relax after a long day, and what better place to do this than their own bathroom? Although jacuzzi style bathtubs are not as popular as they used to be, other large bathtub styles are managing to become one of the most popular new models.
Open Showers
Open showers visually increase the size of your bathroom, while providing more space and providing convenience for users. Gone are the days of worrying about slipping off the edge of the bathtub while trying to get out of the shower and dry. Some consider this design to lack privacy, while others enjoy the accessible opening and increased shower space.
If you are dreaming of a modern bathtub, shower, faucet set in the bathroom, you can examine the products you have dreamed of and get an idea.
5- Open shower freedom
Now even the new working generation We all spend a lot of time in our bathrooms, so we have to transform them into a magnificent place. We can imagine and implement unique bathtubs, stylish vanity units and modern toilet designs, new bathrooms of all shapes and sizes to suit both large and small spaces and budgets.
Since light can completely change the mood of a space, we do not forget that the lighting system is an integral part of the puzzle when designing the bathroom. If you want to see and examine different lighting models, you can examine the most modern and stylish lighting systems here.
6- Bath with plenty of illumination is at its peak
7- The nobility and charm of marble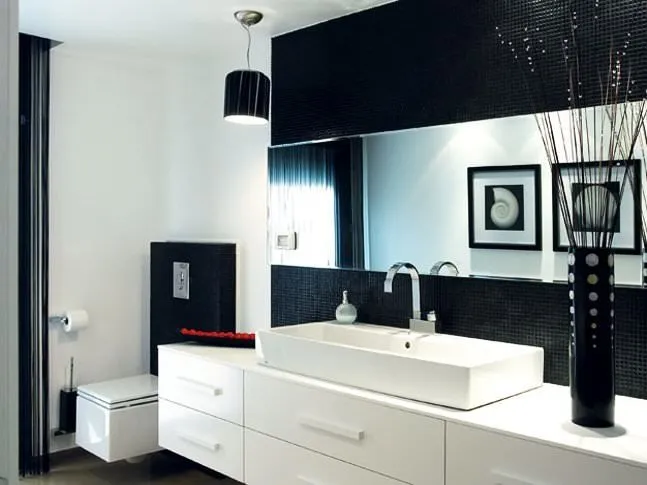 8- Indispensable harmony of black and white
9- Free spirit shower TRANSPARENT
10- live if you haven't experienced double sinkhole loss
11- Discover areas where bright, spacious, modern lines meet
STAY WARM THIS WINTER WITH FLOOR HEATING SYSTEMS
If you haven't bought a pair of slippers to escape the feeling of cold under your feet while walking on the bathroom floor; It may be a good investment if you consider adding a heating system under the bathroom floor.
When the outside temperatures drop, it is extremely enjoyable to stroll in a bathroom with a warm floor. It can be used with a variety of flooring options such as underfloor heating, flooring, concrete, vinyl and wood. But in the bathroom, cold ceramic can turn into a beautiful and comforting warm floor. Heating systems not only provide heat, but can also reduce noise levels and possible allergic reactions as there are no air currents disturbing dust.
More and more technology is being added to bathrooms, which means smaller appliances are integrated into the bathroom. For example, some luxury bathroom designs now have countertop refrigerators near a beverage center or vanity area, or a vanity counter for your medications or organic facial remedies. Or you can find some home bathroom designs with warming drawers for linens and dresses. In addition to conventional dryers in the makeup area, wireless music systems, TVs, cooling or heating systems, etc.
The bathroom is turned into an area with electrical appliances. Now, with the technological investment in the bathroom, it can rival the kitchen. This trend will continue in 2020-2021, especially in master bathroom designs. You can view the necessary toiletries you can use in the bathroom here .
12- The whole wall mirror integrated with white, the limits in width are forced.
13- May be the style of the nobility, wood, modern, misty look, dim lights
As mentioned earlier in this post, gray is slowly coming out of home renovation trends. With it comes the return of warmer tones and accents - especially wooden ones! Various wood tones can compliment white, blue, green and dark bathrooms. Almost everywhere! Wood accents pair beautifully with vintage and industrial trends, so it's no surprise that they reappear. This look adds a classic traditional style to other smart and modern bathrooms. We see this in unique styles too! You can examine wooden-looking, wood-colored products here , discover the models, maybe one of them can be the style you are looking for.
Vividly colored textile products in the bathroom add excitement and adraline to the bathroom. If you want to have colorful textile products in this style, you can click here to review the products and have an idea.
14- The value that orchid adds to the bathroom, it is worth a try.
15- The storage areas under the sink are modern and stylish!
16- Feel yourself in the palace! this is your right too. The chandelier added elegance to the bathroom
ASYMMETRIC ADVANCED MIRRORS AND CHANDELIERS
Asymmetrical Mirrors carry better and stylish modern lines in the bathroom than ever before. Mirrors make the bathroom smarter, just like modern smart bathrooms. Mirrors can have anti-fog technologies, smart touch capabilities, USB charging stations and anything else you can imagine.
While examining or choosing the sculpted frame and mirror options, it pushes towards the ability to be as creative as possible and we have not forgotten the most important details of modern bathroom mirrors "lighting". It's all about lighting. The more noble and swan the lighting is, the more attractive your bathroom looks. Generally, since bathrooms are in the dark spot of homes, lighting becomes mandatory. By using good lighting, you can take the bathroom out of the darkest part of the house and turn it into spaces where you can have a pleasant time.
While we all love the idea of ​​fun shapes and tools, functionality tops our list. That's why we see a front light that is growing in popularity alongside contemporary backlit mirrors. Backlit mirrors are a slimmer option that will allow for optimum illumination. Lights in the front allow for more creativity, but can move away from an asymmetrical mirror shape. You can view bathroom mirror models here and get new ideas.
17- The harmonious dance of white wood and lighting lamps
18 | Visualizer: Gabriela Krawczyk
19 | Viewer: Nataliya Yahela
20 | Visualizer: Amr Abdeen
21 | Viewer: Creating ONI
22 | Viewer: Oleg Kucher
23 | viewer: Andrey Korniychuk
24 | Imager: Serghei Ambros
25 | Viewer: VisEngine
26 | Imager: Studio Saxe
27 | Visualizer: Martin Krizan
28 | Viewer: Angelica Andreichenko
29 | Visualizer: Roman Srebranets
30 | Imager: Ekaterina Domracheva
31 | Imager: Slava Korchagin
32 | Imager: Petrenko Arsentiy
33 | Viewer: Silvia Saez source: http://www.home-designing.com/
34 | Designer: Olya Shangina
35- | The look of the mirror and the lighting
Source: Pier One Hotel, Sydney
36 | Where the word ends
37 | Gray is always ahead
38 | Gold plating - elements that add richness to copper bayo
39 | It would not be more enjoyable to be in the shower with nature ..
40 | Imager: Igor Sirotov
41 | Suspended lights will understand you better and warm you up
42 | The prominence of silent gray
43 | Visualizer: Those who want K-Band Red here? Here are the alluring touches of red
44 | Designer: AAA Arch
45 | Source: SHK Store
46 | Visualizer: Gabriela Krawczyk
47 | Viewer: Nataliya Yahela
48 | Imager: Le Khanh
49 | Imager: Ogovio
50 | Imager: Elena Sedova
51 | Imager: Mohanad Al Homsi
Just 1 Bathroom Redesigned in 21 Different Ways Worth Seeing
1 | Great wood. The first draw in this bathroom space is a stunning wood panel in which the grain is formed in a geometric pattern. It is a design centered around the feature wall. There is an elegant and modern pedestal washbasin at the front. The rest of the bathroom, especially the wall, is mostly white used to keep the spotlight.
2 | Tall and teal. This colorful design uses tiny teal wall tiles that cover two walls from floor to ceiling . The small size of the tiles makes the room appear taller; It prevents glossy surfaces and deep color from darkening the room. White double sink bathroom vanity and large vanity mirror
3 | The sanctuary of a surrealist. A unique bathroom sink , irregularly shaped mirror, unusual wall sconces and oddly sized shower design is the type of bathroom you might find in a modern day Salvador Dali home.
4 | Get up and go. Feel special in the mornings by wrapping yourself under it. A strip of gold tile wraps this white bathroom design like a ribbon tied around a precious gift.
5 | Low color, high texture. Herringbone floor, ribbed feature walls, and concrete tile fill this bathroom with subtle colors, but their textures provide plenty of work to the eye .
6 | Look for luxurious finishes. This gray and white bathroom looks amazing in marble and high-end geometric tile areas. Even the smallest areas can take care of the business when the right materials are given.
7 | A French vintage style chest of drawers serves as a vanity unit here; The rest of the ceramics are completely modern, including a minimalist toilet and bidet set that hangs on the wall.
8 | Another take on French vintage meets the modern minimalist approach, but this time with a shower stall instead of a bathroom and a darker wall tile option.
9 | The bathtub is back. This modern black tub looks stunning even in equally dark environments. Black box shelves display toiletries properly. The wash plate integrates with the black box aesthetic, along with the black minimalist toilet paper holder .
10 | Closed chip in the old block. French vintage-style vanity is back, but this time with a unique wood-block feature wall
11 | There is beauty in balance. The eye-catching tiles are bordered by the cistern wall to balance out the black stylish framed shower drain
12 | Mint fresh. It's not just toothpaste in this green bathroom. The mint walls, sink, toilet and bidet look super fresh in a raw concrete shell. The extraordinary wire-frame tub design offers a crisp white element as well as a subtle white vanity rack.
13 | Pattern for mileage. Stylish, characteristic, and trendy, patterned tiles can turn a bland bathroom layout into something super special. In this design we also see the introduction of a corner shower, leaning over to leave a larger floor area and an even loftier pattern. The shower tray does not fit back into the recess, so a small tiled step fills the gap
14 | Bamboo is a natural style. Natural bamboo wall covering provides a calm environment to this bathroom. The theme of nature is supported by the greenery above the cistern box and the glass vase in the vanity
15 | It's all about plumbing - this curvy set looks stunning in monochrome. The lighted vanity mirror covers the ensemble.
16 | Sometimes it's good to cut corners. A corner bath can offer a space-saving solution in tight spaces. The floating vanity unit is a great way to increase the perceived floor space as well, making the job of cleaning the bathroom floor much simpler.
17 | Raw concrete and fascinating furniture. For an industrial bathroom trend setter. Here we see the return of the extraordinary wire-frame tub design and complementary wire-frame vanity unit. Tucking wood over vanity is an important move as it provides the only visual warmth in the room.
18 | Smart and striped. A modern bathroom layout with gray and white stripes, then warm the atmosphere with wooden accent pieces.
19 | To make balancing tricks in designing Bayo models . An asymmetrical, cascading vanity design allows this wall mirror to be centered around the room rather than the available recessed wall space.
20 | Shape theme. This toilet silhouette becomes the defining motif of the room. A bulky bidet and vanity mirror follow this. You can get something good when it comes to theme, cabinet, sink, and bathroom.
21 | Black marble and chrome. Black marble and traditional style sanitaryware shape this luxurious bathroom design. The rolled tub rests on the chrome clawed legs and the shiny towel rails surrounding the double sink make-up. Source: home designing We have prepared a small visual and presentation about the bathroom models and products.